Finishing touches
The dress that clothes your handles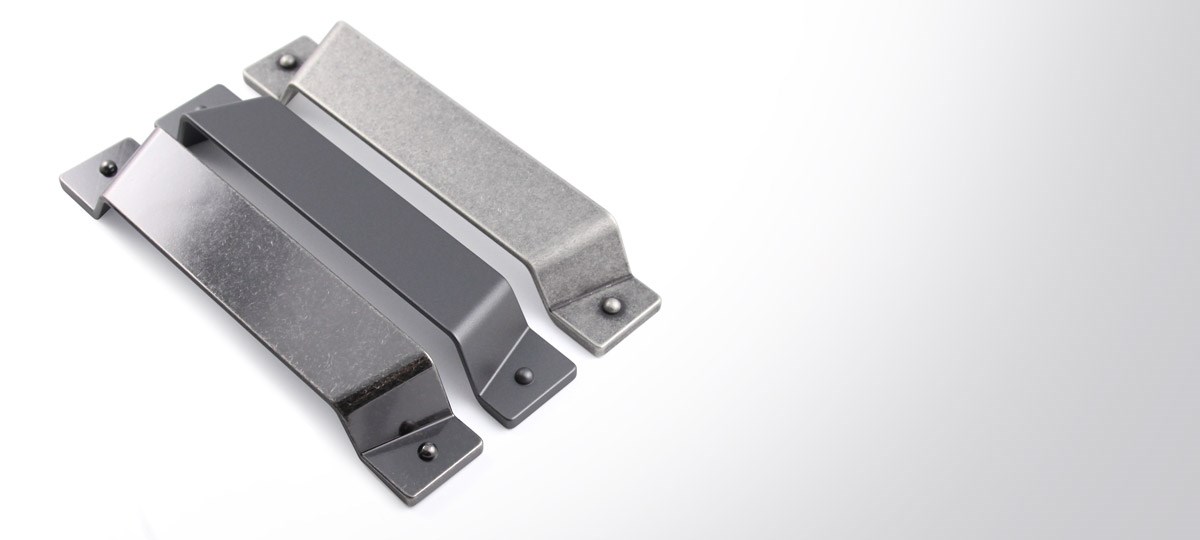 Furnishing our surroundings involves a long, thoughtful decision-making process, to ensure every item is linked to the others in a blaze of harmony in some cases, or in an ordered balance of contrasts in others.

The choice of furniture knows how may influence the shape and model of handles, but it's the entire that then needs the final touch that's given by the finishes.
Everyone agrees, its everything you could ask for, to feel bright and at ease in your own surroundings and those you find yourself in.
A finish is like that refined, simple but essential brooch that can make a simple black dress really stand out and dazzle.
A touch of elegance that says a great deal about you.
Here are a few suggestions.
UNDERGROUND FINISHES
Among the countless finishes it offers, the Citterio Line powerfully asserts itself as the boldest and most metropolitan.
The
Pewter
(19),
Rubber
(100),
Blackboard
(101) and
Cement
(110) finishes fit as perfectly into the new generation of underground environments as they do with somewhat vintage industrial furniture with its combination of used materials and metals.
Here, we're talking about colour finishes that are very similar to
antique iron
and
pewter
, and a use of materials as a means of quasi artistic expression.
An effect that's very similar to that of lava stone and cement, that is,
raw and natural
, for an aesthetic expression that's powerful, clear and modern.
Raw is synonymous with the natural elaboration of these finishes, capable of evoking
natural elements
from imperfect forms, vibrant and massive. The materials are presented as true and proper
natural oxidations, aged by time
but which at the time, didn't know how to survive.
As only the simplicity of nature can, they create
a warm, familiar and robust atmosphere
that's appreciated by the eyes.
The robust and decisive woven fabric is not just an aesthetic product, but is reiterated in its
wear and weather resistance
characteristics
as well as its impact resistance
.
In line with the latest trends in the furniture market, these finishes display a texture with a very special charm and can be
applied to any items from the Citterio Line.
LACQUERED FINISHES
Classic colours, for a brand new result - lacquered finishes in
gold, copper and bronze.
Soft colours in satin and matt versions give a visual impact that's certainly more discreet, yet elegant at the same time.
The
gold
plays wisely with the surroundings, like a
small, precious light
that illuminates the atmosphere and fills it with a sense of well-being, prosperity and fulfilment.
The
copper
, whilst more sober, is no less of a star.
Lightens the dark
and
invigorates
whites and
pastel colours
. It's soft, shiny colour enables it to light up a classic style or create an industrial chic style.
Last but not least, we have the
bronze
finish.
Finishes that evoke
the warmth of homes of yesteryear
, safe, strong and loyal.
A silent, but impressive finish.
Any Citterio Line item will proudly wear its best dress for your home, and will say a lot about
your family and style history
every single day.
-> TAKE A LOOK AT ALL OUR FINISHES
Allow yourself to be advised and guided in choosing the best finishes for your environments.
GET IT TOUCH