Early announcements for SICAM 2019
Citterio Line will be at the Sicam 2019 edition, Pordenone, October 15-18.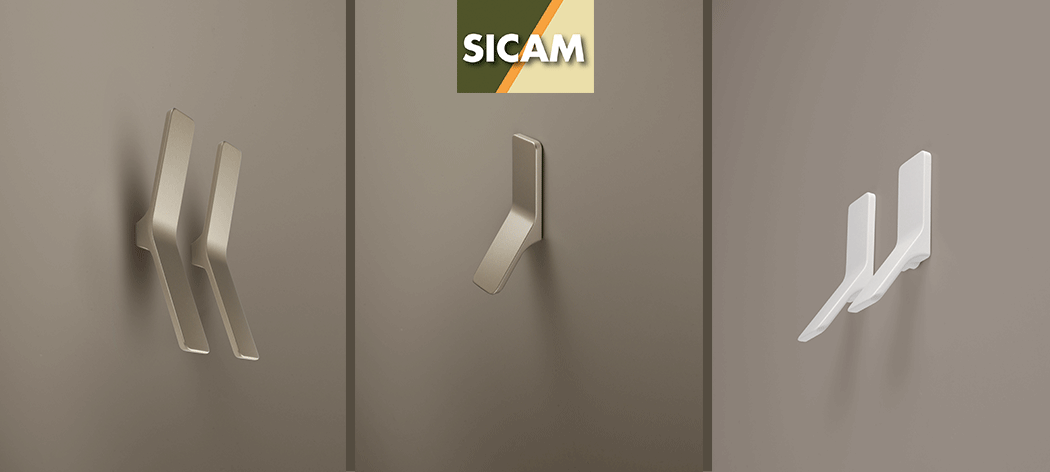 The eleventh edition of SICAM, the International Exhibition of Components, Semi-finished Products and Accessories for the Furniture Industry scheduled from 15th to 18th October, is an acclaimed venue for learning how furniture trends are evolving through its showcasing of new proposals from the subcontracting sector.
Citterio Line will be at the Sicam 2019 edition, presenting our new developments in the wide range of handles and finishes that have always distinguished the company.

Thanks to a culture increasingly oriented towards self-expression, spatial interaction in domestic environments is evolving from an attitude merely focused on functionality to one centred on a creative approach. It is in this context that Citterio Line was inspired to address furniture doors and panels, making them "fly", giving them even greater freedom in a minimalist style.

Hence versatility takes over as the key feature of a piece of furniture and its handles, with proposals of furnishing solutions compatible with their intended space and the user experience yet retaining their design appeal.
Anticipating this marked trend towards versatility, Citterio Line has created two new handles with an eclectic aesthetic appeal, capable of adapting to any living environment.
Handles 410 and 411
, minimal and resilient, with clear and decisive lines, they recall the wings of a late summer seagull or swallows flying off to new frontiers in design. Viewed from a different perspective, they take the form of a springboard, one that drives Citterio Line in our creation of new collections of handles always characterised by innovation, modernity and originality.
The
410 and 411 handles
are modern elements that match well on doors, furniture or bedside tables, enhancing the items to which they are fitted with a minimalist yet secure character, enriching living rooms, bathrooms or office spaces.
It is then up to the finishes to make the furniture stand out further.
The
410 and 411 handles
are perfectly constructed for the application of
modern lacquered finishes
, in the more contrasting tones of opaque white or lead,
and in the more special shades
of copper, bronze and gold.
In addition to the new collection of handles, on the occasion of SICAM 2019, Citterio Line will also present a variety of
multiple finishes
, chromatic proposals that focus on catering for personal taste together with the search for materials and their combinations, in the pursuit of new interplays between diverse yet distinctly harmonious surface textures.
Model finishes include
galvanized versions
such as the
18/S
copper satin black, the
111
brushed matt bronze brass or the
112
brushed matt black brass,
plus a brand new range of brass, copper and vintage pewte
r.
Citterio Line, a long-standing creator of handles distinguished for our leading design, creativity, style and rigorous "Made in Italy" quality, is ready to "take off" for SICAM.
We look forward to seeing you at SICAM 2019
15th to 18th of October
HALL 7 - Stand A30
-> DOWNLOAD THE INVITATION